Amazon Interactive
The Ecotourism Game

Let tourists eat and sleep in private homes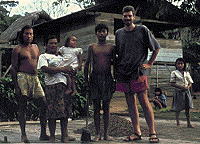 Tourists enjoy the close contact they have with the people of Pangayacu. They spend many hours in the evening eating rice and fish, conversing with their hosts in basic Spanish, and even drinking aguardiente--a fiery liquor made from sugar cane.
Almost all the tourists ask about Quichua culture. You remember a few traditional songs and dances, but only modern pop music is played at local fiestas. Should you put on a traditional cultural program or let them enjoy a more typical fiesta,with a stereo playing recent radio hits?
Would you like to hear a bit of traditional Quichua music (108K in AIFF or WAV) or a radio hit song (50K in AIFF or WAV)?
| | | |
| --- | --- | --- |
| There has been little change in land use. Currently about a third of all community land is primary rainforest. | | |

| | | |
| --- | --- | --- |
| | | Tourists pay only $40 a day, but the money has a big impact. At this rate, each household will make about $300, or 50%, more this year than last year. |
What do you think the community should do to entertain tourists?
Stage a traditional cultural program
Have a contemporary fiesta
---