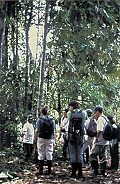 Agustín recruits you, Pedro, and Fernando, all men in the 20s, to run the ecotourism project. You put up signs in tourist hotels in the market town and send a few to relatives in Quito to be posted in hotels there.
Within weeks, tourists start to arrive. You take them on walks in the rainforest and swimming in the waterfall. They seem like good people who are sincerely curious about the forest and the Quichua. Though you're nervous about doing a good job, you enjoy the tourists and even make a few friends.
But you need a place for them to sleep. Should they sleep on simple mats in people's homes, or should you build a tourist compound with cabins and a dining hut?