"Are you color blind?" Trish gaped. "This palette could never have mixed the colors for our bright landscape! Warm, dark tones like these were used by a great artist named Rembrandt van Rijn (1606-1669) in his painting, 'An Old Jew Seated.'"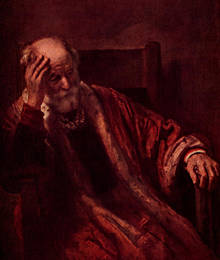 Trish added, "Rembrandt, like our artist, was interested in light. But Rembrandt enjoyed creating drama with light and shadow using rich earth tones.
"Pick a brighter palette!"