"Good eye!" Trish said. "You could see that this painting was made by the same artist who made the painting you're stuck inside of.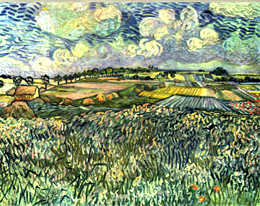 Landscape at Auvers, 1890
"Our artist painted very quickly," she added. "He laid the paint on very thick. Sometimes he would squish the paint onto his canvas straight from the tube. He probably even used his fingers. No wonder some folks thought he was crazy!"