Miss Featherduster nodded briskly, "So I'm the proud owner of a François Millet painting. Is it valuable?"
I shrugged. "Aren't they all?"
She wouldn't buy that art-lover line. "Give it to me straight. Have I hit the jackpot?"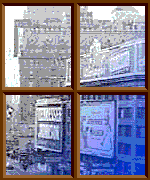 Before I could answer, a siren wailed. Out the window I saw the cops stop in front of my building.
I turned back to Miss Featherduster, but she was gone.
Ruby, my secretary, came into my office. "Maybe this'll explain some things." She tossed the morning's Tribune my way. I read the headline in disbelief.