"Where?" Trish the Fish said. "Where did this artist make this painting?" She pointed a fin at the people standing on the bank. "Why don't you ask one of them?"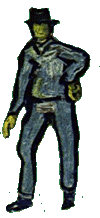 The people looked pretty odd. They had roughly painted faces and no mouths, so I wasn't sure if they could answer my question. But I asked anyway.
"Where am I?"
The man answered in some other language. "Vous nagez dans la Riviere d'Oise proche d'Auvers, naturellement!"
Confused, I turned back to the fish. "Huh?"
"Oh, come on," she replied. "What do you think he said?"
"I don't know. But that sounded like...